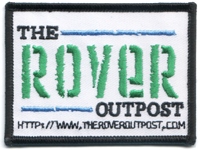 At The Rover Outpost, we take great pride in what we do. We enjoy coming up with creative designs and products, and we enjoy seeing those designs come to fruition. Whether you event is a one-off event for ten people, or if it's an annually occuring fundraiser or camp for hundreds, we enjoy coming up with fun and interesting designs to fit your budget. Please feel free to check out some of the samples of products we have made, and feel free to ask about the thoughts behind the production any of them. We also keep samples of every design that we make, so if you have an idea for something and want to see what others before you have come up with, these samples can provide a great basis to work from.
With the mainstream adoption of social media by companies and individuals alike, it has become incredibly easy to ask questions and get answers. The Rover Outpost hopes to capitalize on these tools, to be able to help you, the customer, feel more connected with how we work and what we can do for you. Twitter and Facebook are two such tools, tools we find very important, which is why you'll find links to our profiles at the top of every single page you visit on our site.
Hopefully, as time goes on, The Rover Outpost will grow and expand, and have lots of interesting stories to tell. We hope to expand to more and more product options, and perhaps be able to act as a hub for any sort of commemorative manufactured good your event may need.